FUJISHIMA Takeji
1867~1943
 Born in Kagoshima City, FUJISHIMA liked to draw pictures from childhood. He studied Japanese-style painting at Kagoshima junior high school. He moved to Tokyo in 1884, and studied the Japanese-style painting under KAWABATA Gyokusyo and the Western-style painting under SOYAMA Sachihiko, NAKAMARU Seijyuro, MATSUOKA Hisashi, YAMAMOTO Housui. In 1896, FUJISHIMA was appointed assistant professor of the new Western Painting Section of the Tokyo School of Fine Arts by KURODA Seiki. He also took part in establishment of White Horse Society (Hakuba-kai) the center was KURODA Seiki and KUME Keichiro who studied expression of outdoor light in France. In 1906, he went to Europe. He didn't meet Raphaël COLLIN KURODA had intoroduced, studied under Fernand CORMON in Paris and Carolus DURAN in Rome. In 1910 he came back to Japan, and presented his work in staying at Europe on the 13th White Horse Society's Exposition. In the same year he assumed a professor of Tokyo School of Fine Arts. Since going back to Japan, he became a member of the Imperial Art House and an artist of the Imperial Household, in 1937, received the first Order of Culture. He died in Tokyo.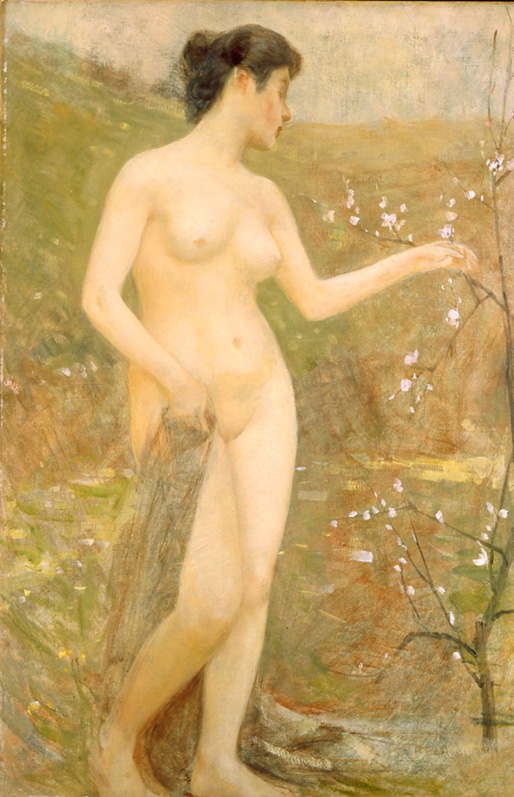 The woman-with-flowers motif is seen recurring in numerous works by Fujishima, who kept flowers constantly around him. Here, the woman's hand lightly touches a sprig on a flowering peach tree, creating an atmosphere of a lusciously beautiful kind. The work is thought to belong to the artist's period of transition from pleinairism to decorative-romantic painting.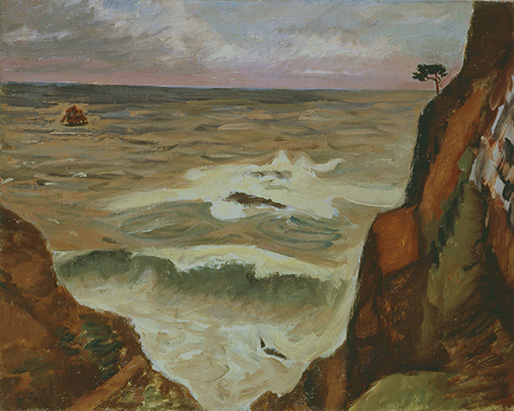 In 1928, Fujishima was commissioned to create oil paintings as adornments for the study rooms in the imperial palace, in celebration of the Showa Emperor's accession to the throne. He selected sunrise as the theme, and over the following 10 years made trips to various districts in pursuit of sunrise scenes. This work arose from one of these sunrise-painting trips – it is said to be based on a sketch he made when he visited the Toba County of Mie Prefecture in 1930.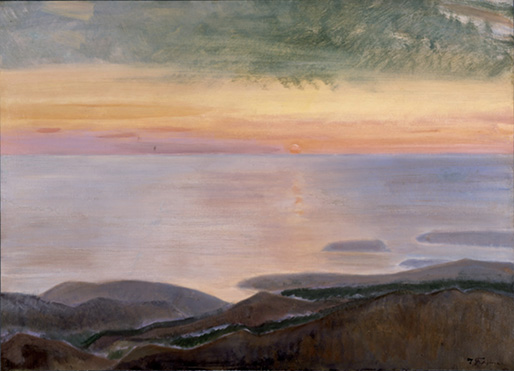 This work is one of the fruits of Fujishima's sketching tour around the Toba County in pursuit of sunrise scenes. It is a view looking down from the summit of Mt. Asama, a little way from the coastline, over the wide expanse of the Pacific in the distance. Unlike Raging Billows at Daio-misaki Promontory, this is a serene scene, depicting the moment before daybreak.